Stop me if you've heard this one before
There was a distinct air of déjà vu around the campaign today. Tony Blair returned to his former constituency of Sedgefield, warning about the dangers posed by an EU referendum. Labour parodied a 1979 Conservative poster to suggest GP waiting times have gone up under the coalition. And David Cameron began his day at the Edinburgh HQ of Scottish Widows, where he was last seen imploring Scotland to vote No to independence.
"Former Labour prime minister backs Labour" is one of those news stories that falls into the "dog bites man" variety.

Important, perhaps, to the poor chap with a sore leg but hardly news for the rest of us. So why will we spend so much of today discussing Tony Blair's intervention in the election campaign?

One reason is that Tony Blair won general elections. Three, to be precise. He knew how to do something the current generation of political leaders seems unable to do and that is secure majorities in the House of Commons. Any advice he gives Labour will be scrutinised for vicarious wisdom from which the party could benefit with the opinion polls still showing little movement in any direction. Read more >
James Landale
Deputy political editor
Blair says beware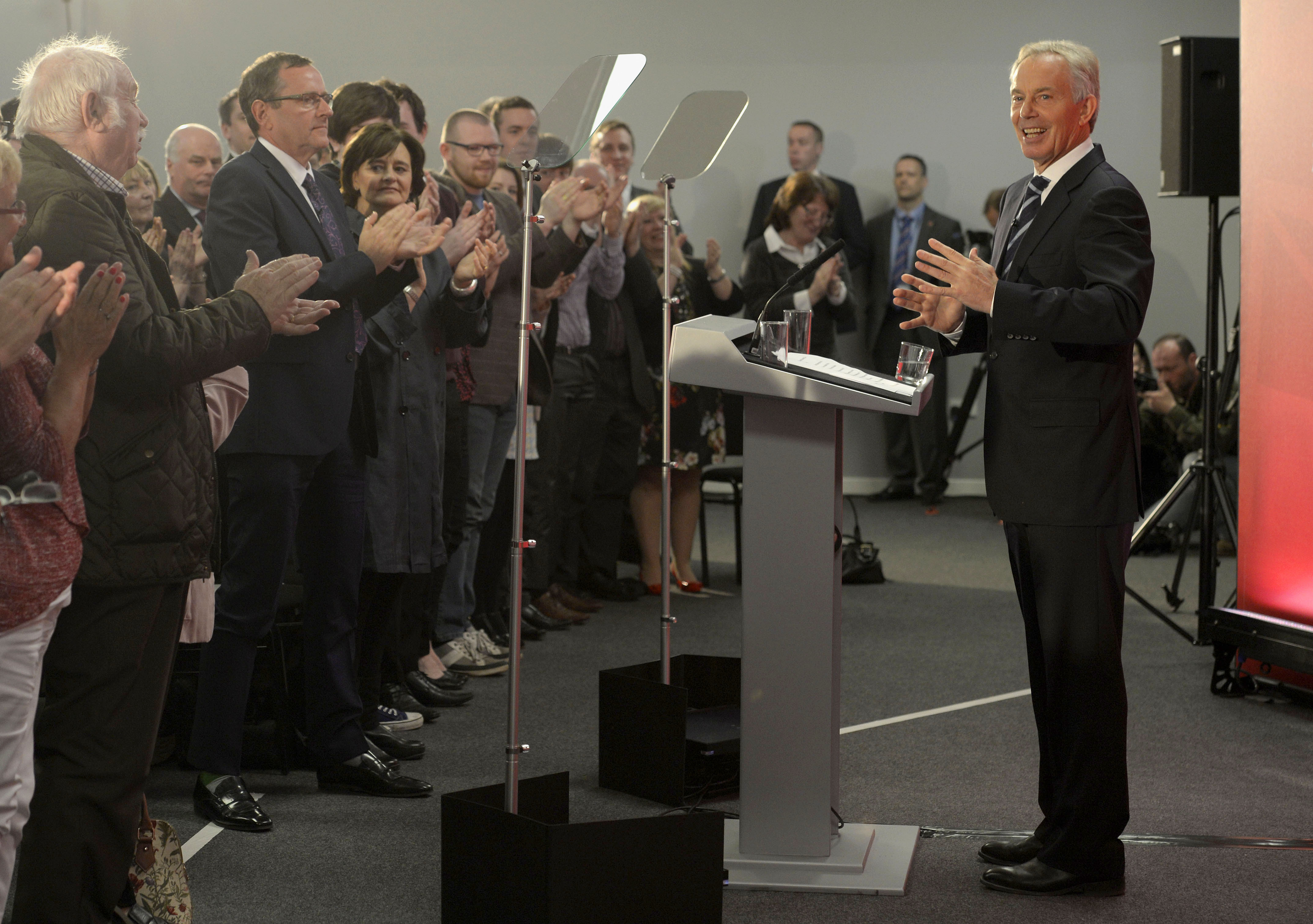 Tony Blair warned that leaving the EU could leave Britain a "parochial bystander"
Tony Blair has waded into the election campaign, claiming David Cameron "will be more focused on [an EU referendum] than literally any other issue". He said he backed Ed Miliband 100% and respected the way he has resisted calls for a vote on Britain's EU membership. George Osborne argued the former PM was doing the Conservative Party a "very good service" by "advertising the fact that if you vote Conservative you get a referendum". Read more >
Prescriptions for NHS funding
Health Secretary Jeremy Hunt has promised the NHS will get "whatever" it needs, whether that's "more or less" than the £8bn recommended by NHS chiefs. His Labour counterpart, Andy Burnham, said that was "vague" and outlined that Labour would make an extra £2.5bn available for the NHS through a "mansions tax". The Lib Dems, meanwhile, say they are the only party committed to spending £8bn extra on the NHS. Read more >
Greens refresh citizens' income pledge
Natalie Bennett has confirmed the Green Party will include a "citizen's income" in its manifesto - but she does not expect it to happen before 2020. It would mean every adult in Britain gets a basic income regardless of wealth or earnings, worth £72 a week. Critics of the policy have pointed out it could cost £280bn.Read more >
UKIP ministers to Army veterans
Nigel Farage has detailed his party's plans for a veterans' minister. The job would be independent of the Ministry of Defence and ensure veterans get priority for social housing and mental health services. He accused the Tories of "letting down" the armed forces, but the Conservatives said he was "playing politics with the military". Read more >