https://yougov.co.uk/refer/HdvYK1txkm0PfdJX43_Iow/
<<< follow the link if you would like to join the YOUGOV panel and have your opinions heard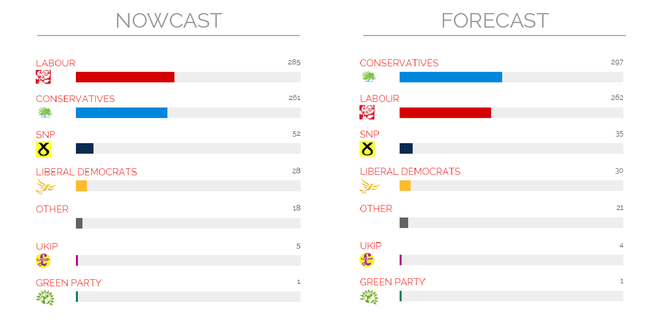 Our Nowcast highlights the difference between the consensus prediction and what the data is saying
today
For some time, there has been a consensus among commentators and election forecasters that the Conservatives will end up as the largest party in the Commons after
May 7th
. YouGov's Stephan Shakespeare has pointed to the fact that David Cameron remains decisively more popular than Ed Miliband and that
Cameron-Clegg is a hugely more desired combination than Miliband-Salmond
; YouGov's Peter Kellner's
latest forecast
predicts that once a campaign swing to the Tories and factors such as incumbency come into play the Conservatives will end up ahead on 297 seats compared to Labour's 262.
However, the raw polling data has yet to show evidence of these factors appearing. Today, YouGov publishes it's 'Nowcast', which will be updated regularly all the way through to the election. It makes use of over 150,000 interviews that have never before been published, using a special two-stage voting intention question that tends to be better at teasing out local tactical voting patterns. It will be supplemented by around 5,000 new interviews every day until election day.
Using the latest statistical techniques, our data team led by Stanford Professor Doug Rivers (YouGov's Chief Scientist) has developed a model that combines the not insignificant number of panelists we have in each constituency (typically between 200 and 500 involved in this study) with imputed results from regional patterns based on detailed demographics, income, ethnicity, work type and of course past voting intention. With this uniquely large dataset, we believe this represents the best available estimate of the current state of the race.
From what people are telling us right now, the SNP would nearly sweep the board in Scotland with a whopping 52 MPs. Whether that recedes as we approach polling day is currently a matter of speculation and doesn't feature in our model. Meanwhile, our data reveals that Labour is performing well in the marginal areas of England that it needs to to be competitive. Again, whether this remains the case or the predicted reversion towards the status quo occurs is outside the scope of this model. The total in terms of seats comes out at Labour 285, Conservatives 261, SNP 52, Lib Dems 28 and UKIP 5.